World's Best Hadouken!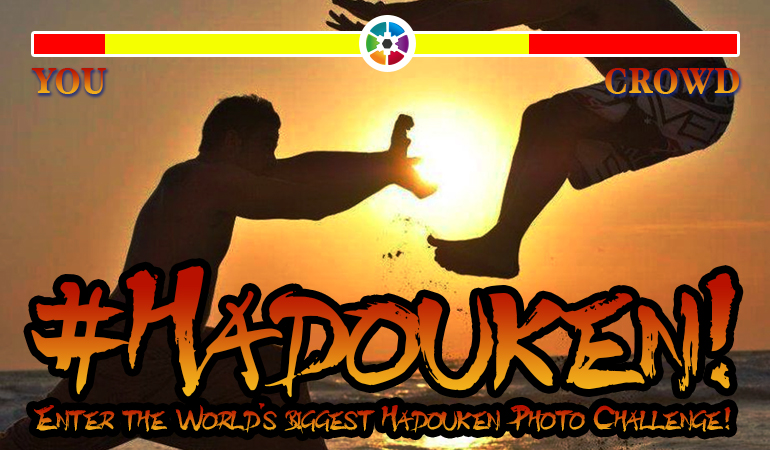 • Content contained within the submission must comply with Promoki's general community rules and regulations as detailed in the Promoki Terms of Service and Privacy Policy
• Any Submission that includes content that is deemed inappropriate, indecent, obscene or otherwise does not comply with the Promoki Terms of Service, as determined by Promoki in its sole discretion, will not be eligible, and the participant WILL be kicked off of the platform and restricted from ANY further participation in Promoki projects.
• By entering a submission, participants represent and warrant that the entries that they submit: are their own original creations, do not infringe any other person's or entity's rights and has obtained permission from the people featured in the Submission to enter this Contest. Crowd Voting: To win the competition, participants should share their photo across the social web. Your photo's ranking is based on how viral it is across the social web, so the more plays, likes, tweets, shares, re-shares, comments, and hits – the better. The faster your photo spreads through your friends' networks, the more likely you are to win.
Time to make a meme! Get your Hadouken on!
Join the World's biggest Hadouken photo contest and submit your best hadouken photo to see who will be the champion of the Internet's latest meme.
Follow these simple steps to participate and win:
1. Upload your best hadouken photo
2. Share the photo and get your friends to vote for you!
3. The most votes will win. It's that simple.
The winning photo will get turned into an actual animation by an anime artist and receive all the bragging rights and glory they can handle!
Who will be victorious? Which hadouken photo team will win the glory? How creative is your hadouken team?
There's only one way to find out, submit your best hadouken photo to the world's biggest hadouken photo contest.
Rules
---
• Content contained within the submission must comply with Promoki's general community rules and regulations as detailed in the Promoki Terms of Service and Privacy Policy
• Any Submission that includes content that is deemed inappropriate, indecent, obscene or otherwise does not comply with the Promoki Terms of Service, as determined by Promoki in its sole discretion, will not be eligible, and the participant WILL be kicked off of the platform and restricted from ANY further participation in Promoki projects.
• By entering a submission, participants represent and warrant that the entries that they submit: are their own original creations, do not infringe any other person's or entity's rights and has obtained permission from the people featured in the Submission to enter this Contest. Crowd Voting: To win the competition, participants should share their photo across the social web. Your photo's ranking is based on how viral it is across the social web, so the more plays, likes, tweets, shares, re-shares, comments, and hits – the better. The faster your photo spreads through your friends' networks, the more likely you are to win.